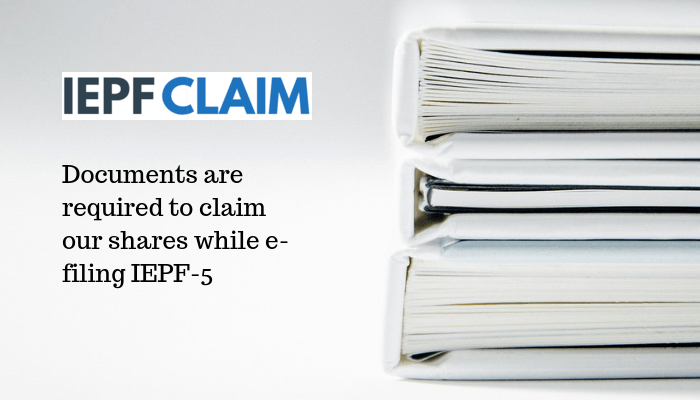 The following documents are required to be submitted for claiming shares which have been transferred to the IEPF:
Print out of duly filled and uploaded claim form with claimant signature and if joint holders are involved than claim form to be signed by all the joint holders.

Copy of acknowledgment bearing SRN No. duly attested by Claimant.

Indemnity Bond (Original) with claimant signature.

Advance Stamped Receipt (Original)

In case of refund of matured deposit or debenture, or bonds, original certificate thereto.

Copy of AADHAAR Card of the claimant and if joint holders are there, Copy of AADHAAR Card of all joint holders.

Copy of PAN Card.

Client Master List duly attested by claimant.

Original Share Certificate (in case shares are in Physical Form)

Proof of Entitlement (Certificate of share/interest warrant Application No. etc.)

Original Cancelled Cheque Leaf.

Copy of Passport, OCI and PIO card in case of foreigners and NRI.

In case any Joint Holder is deceased, copy of Death certificate to be attached.

Other optional documents, (if any)
Share this post?